Past achievements
» 2014 Tour de France - installation of flag poles with Yorkshire Flags to celebrate the historic visit of the 2014 Tour de France to Otley.
» Yorkshire month - installation of 111 flag poles with Yorkshire Flags for the August 2013 celebrations of Yorkshire Month, in conjunction with Otley Town Council.
» 2012 Olympic Games - installation of 111 flag poles with Olympic Flags to celebrate the London games and the many Olympians from our region, in conjunction with Otley Town Council.
» Royal Wedding celebration - manufacture and installation of 111 flag poles and Union Flags to celebrate the 2011 Royal Wedding, in conjunction with Otley Town Council, and available to use on other occasions.
» Otley Town Watch - In the mid 1990s Otley Town Watch was set up by the Chamber as a crime prevention scheme for local businesses. It plays a vital part in making Otley a safer place to shop, work and visit.
» Otley Shop Watch - Otley & District Chamber of Trade and Commerce strongly support the work of Otley Shop Watch and hope to develop a closer relationship with the Shop Watch committee in the future.
» Otley Farmers Market - supporting and promoting small scale, quality agricultural producers
» Victorian Fayre, the annual town wide shop window dressing and street activity festive event much awaited every December
» Lobbying during 2008 to retain 4 hours parking on the public car park now incorporated into Sainsbury's
Otley Chamber: Flying the flag for Otley
The Otley & District Chamber of Trade and Commerce have regularly added a splash of colour to the town in recent years - including the August 2013 celebrations of Yorkshire Month, in tribute to Her Majesty's Diamond Jubilee and to celebrate the London 2012 Olympic Games.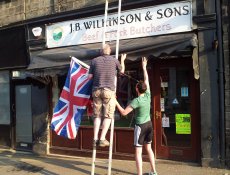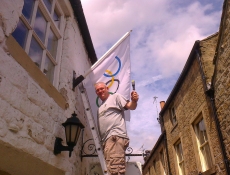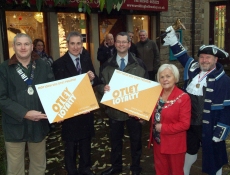 Projects and Initiatives
The Chamber is not just about supporting business; it has always believed in contributing to the wider life of the town and works in partnership with a wide range of local organisations, groups and events.
Partners include Otley Town Council, Otley Town Partnership, Rural Business Network, Victorian Fayre Committee, Otley Disability Advisory Group and Otley in Bloom.
Ongoing Projects
2015 will be another exciting year for the Chamber with a number of initiatives in development and implementation - the more members we have, and the number grows monthly, the more progress we make!
Otley Chamber is currently progressing initiatives including:
Otley Loyalty Card - aimed at further encouraging local residents to support local businesses, Shoppers can take advantage of exclusive special offers and discounts at a wide range of independent shops and businesses around Otley with an Otley Loyalty card. The Otley Loyalty Card Scheme provides our local businesses with the opportunity to promote their products and services through special offers and benefits which are only available to Otley Loyalty Card holders.
Light Up Otley - augmenting of the town's Christmas illuminations with the provision of white fairy lights for use in town centre shop windows by Chamber members during December. In 2010 we successfully reinstated the small Christmas trees that used to feature prominently around the town, and we have built on this each Christmas in subsequent years.
De-cluttering Otley's Streets - in partnership with Otley Town Council, removal of excessive signage, posts and street clutter to improve and reinstate the appearance of Otley as the traditional stone built town it should be and make the town more pedestrian friendly.
Otley Economic Bulletin - now in its third year, the Chamber's monthly newsletter incorporating local business news and Chamber matters has grown to be distributed both electronically and in paper form to c 350 local businesses and now also incorporates low cost adverts.
'Shop Local Otley Prospers' campaign - seeks to encourage shoppers to make their purchases locally rather than in the surrounding conurbations.
Good Service Award - reinstatement of this long disused award to recognise the business that has offered the best example of good service. Candidates are nominated by the public and a winner selected by a mystery shopper.
Antiques Fairs - to address the observation that that Otley lacked a genuine antique shop the Chamber has organised regular Antiques Fairs.
Social events - to add to the Chambers annual summer social and ad hoc curry and games nights, the Autumn Ball is scheduled to return in 2015.