Milk Bar Cafe
Part of our 'Meet the Members' campaign
The Milk Bar Cafe is an Otley institution and can be traced back to the 1940s.
Since then it has had several incarnations - in the 1960s as Milk Bar (a milkshake bar with a duke box!), then the Manor Coffee Bar, the Tudor Coffee Bar, and now restored back to the Milk
Bar and run by owners Cath Pheasy and Nigel Turner.
Cath and Nigel took over the Milk Bar in early 2020 so Covid was a huge challenge for them but they offered deliveries, takeouts, outdoor seating front and back, and set up a deli inside selling
all local produce from jams & honey, to tea and biscuits, so they have survived and are now back up to speed!
They are huge 'support local' advocates - Bondgate Bakery bread, Wilkinson's meat, Otley-based employees, and even their chosen charities and causes are close to home.
Now looking forward to 2022, Cath and Nigel want to entice in a new wave of customers with their new milkshake menu and plan to expand the deli offering too with any local sellers who
would like to display their produce.
They have great coffee, the scones are heaven and the breakfasts are generous - it's a brilliant combination of old meets new in this cafe on the corner!
#otley #otleychamber #chamberoftrade #chamberofcommerce #otleybusiness #shoplocal #shopotley #milkbar #otleycafe #yorkshire #yorkshirelife #supportlocal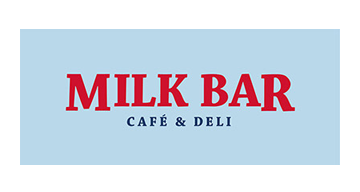 Milk Bar Cafe

Category:
Cafe / Coffee Shop
Description:
Cafe/coffee shop with retail section showcasing Yorkshire produce.
Address:
14 Manor Sqaure, Otley, LS21
Website:
www.milkbarotley.com
Phone:
07713 033935
Members' Special Offer



10% discount on all items for Chamber members only
Please quote this page when redeeming