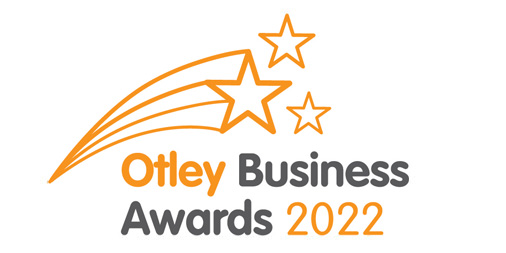 Otley Business Awards 2022 a great success
The great and good of the Otley Business community gathered on Friday night to celebrate the historic market town's annual business awards.
The ceremony and awards, organised by Otley Chamber of Trade, returned this year after a pandemic-induced hiatus, and saw finalists and other stakeholders in the town gather at the Saxon-era Otley Parish Church to celebrate the winners in a glittering awards ceremony.
Following a drinks reception and an Indian buffet provided by the town's Red Pepper restaurant, key note speaker Stephanie Moon took to the stage where the Yorkshire-born chef consultant and star of TV's Great British Menu, wowed the crowd with tales from her career working at prestigious restaurants such as London's Dorchester, Yorkshire's Rudding Park and Munich's Hotel Four Seasons.
Highlights included Stephanie recalling her time working in Australia at Sydney's Park Hyatt Hotel and preparing food for celebrities such as Michael Jackson, Barbra Streisand and Rod Stewart.
Stephanie's presentation was followed by a speech from Otley Chamber of Trade president Simon Raybould who emphasised the community spirit seen in the Otley business community during the coronavirus crisis and outlined a shining vision for the future of businesses in Otley.
Formalities complete, Stephanie returned to the stage to present the awards alongside Katie Burnett, chair of Otley Business Improvement District and ceremony host.
In a night full of winners, Buon Apps River Lounge & Italian Restaurant, picked up two awards in the Best Eatery and Community categories. The restaurant overlooking the River Wharfe was praised by the awards' mystery shopper for "its lovely and welcoming staff, great food and atmosphere and a setting that is better than imagined" The Italian eatery was also selected for the Community Award after raising more than £2000 for the Otley Food Bank charity.
Other notable winners in the ceremony included new Boroughgate house plant emporium Plants Dot Com, praised by mystery shoppers for its "good range of plants and gifts and very knowledgeable staff" while The Orchard Florist picked up the award for 'best kerb appeal' thanks to the intricate window displays created by the shop's owner Alishia Easthope.
The award for Best Service Sector (Business to Customer) went to Landguard Pest Control, while the same category, Joey Sports Massage Therapy picked up the gong in the Health and Beauty Sector.
Good Service awards went to long-standing Otley Pharmacy (retail sector) and Arundel Travel (service sector), while pet shop Petwise took the title of Best Retail business.
Awards also went to The Old Cock (Best Pub/Bar) and paper and stationery maker Sinclairs (Environmental), while Theo Rhodes of financial advisors Christopher Little & Co and Millie Maclean of The Beauty Box shared the award for Best Apprentice.
The ceremony was rounded off with an Outstanding Contribution to the Business Community award for Thomas Hatley, also of Christopher Little & Co. Thomas has been a unique driving force in the Otley business community for more than 12 years, a time in which he not only served as President of Otley Chamber of Trade and Chair of Otley BID, but also devised the very first Otley Business Awards eight years ago.
President of Otley Chamber of Trade Simon Raybould said: "A huge congratulations goes out to all the nominees and winners and, of course, to Tom for his Lifetime Achievement award. The last few years have been a challenge for retail and service sector businesses around the country, but in Otley we have seen many businesses take on that challenge and actually thrive. The community spirit seen at both the ceremony itself but also over the last two years gives me confidence that business in Otley will continue to buck national trends and keep growing."
Chair of Otley BID and lead ceremony organiser Katie Burnett said: "In a year where we have all faced huge challenges, we received nominations for more than 100 Otley businesses. Given these nominations come from the public themselves, it shows just how much the people of Otley love and respect the businesses that serve them. Congratulations to all the nominees and winners."
Now in its eighth year, the Otley Business Awards see businesses nominated by members of the public. All nominated businesses are then assessed by a panel of mystery shoppers, none of whom come from Otley or are part of the Otley business community. A complete set of winners for 2022 can be seen below.
We are delighted to announce the 2022 Award Winners who were all presented with their own engraved awards and personalised certificates. (All photographs below were taken by James Ellis from Endure Communication)
The Award Winners
Best Apprentice/Trainee Award - Theo Rhodes of Christoper Little & Co, Mille Maclean of The Beauty Box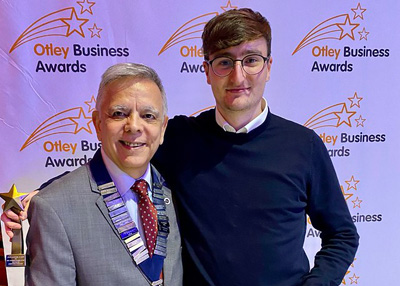 Best Newcomer Award - Plants dot Com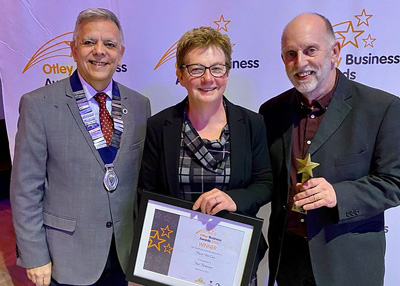 Best Retail Award - Petwise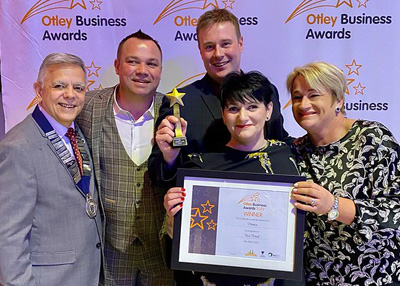 Best Pub/Bar Award - The Olck Cock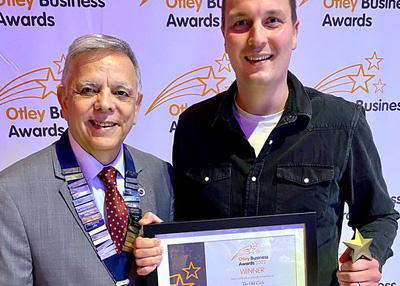 Best Eatery - Buon Apps River Lounge & Italian Restuarant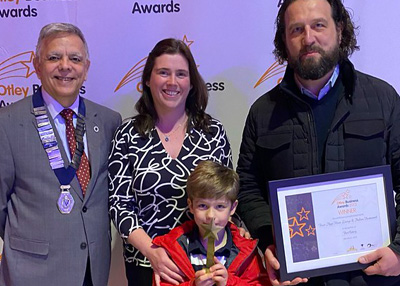 Best Service Sector Award - Health & Beauty - Joey Sports Massage Therapy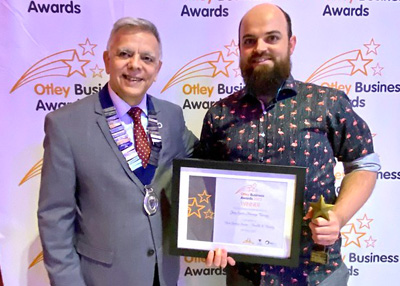 Best Service Sector Award - Business to Consumer - Landguard Pest Control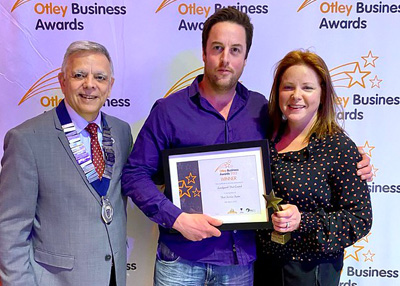 Best Kerb Appeal - The Orchard Florist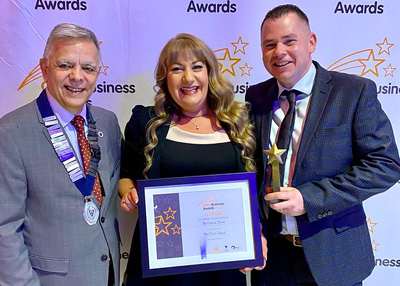 Good Service Award - Retail Sector - Otley Pharmacy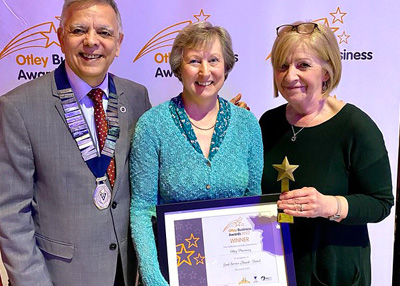 Good Service Award - Service Sector - Arundel Travel


Environmental Award - Sinclairs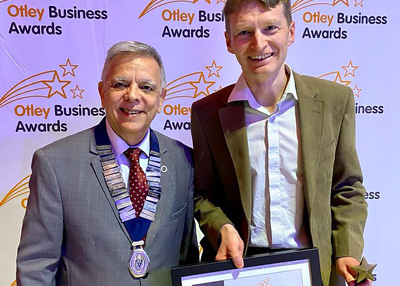 Community Award - Buon Apps River Lounge & Italian Restaurant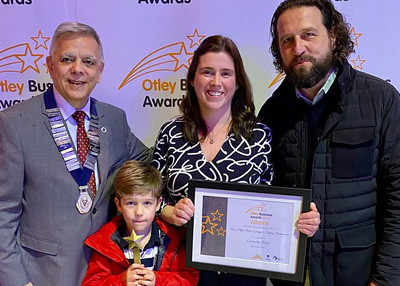 Outstanding Contribution Award - Thomas Hatley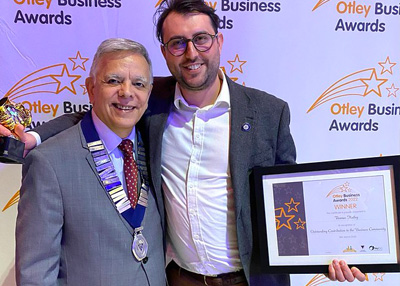 We were again delighted to have the support of the following organisations, without them this event would not be possible:-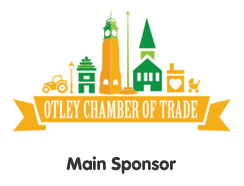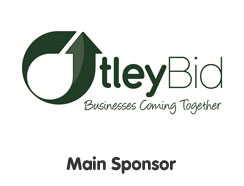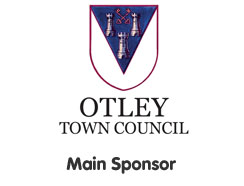 Otley Business Awards 2022 Nominees
Outstanding Contribution to the Business Community Award
To be announced on the evening

Community Award
Buon Apps

Best Retail Award
The Bookshop on the Square
Canine Health
Fink Eyewear
JB Wilkinson & Sons Butchers
Like Nana Did
Love 4 Bags
Otley Mobile
Peek a Boo
Petwise
Plants Dot Com
RM Odds & Ends
S & B Deli and Greengrocer
Weegmans
Best Pub/Bar
The Black Horse
The Fleece
The Junction
North Bar Social
The Old Cock
The Otley Tap House
The Rose & Crown
The Whitakers Arms
Good Service Award – Retail
Bondgate Bakery
The Coffee Station
Dodgshons
Edward Johnson
Love 4 Bags
Otley Pharmacy
Patisserie Viennoise
Petwise
Good Service Award – Service Sector
Althams Travel
Arundel Travel
Buttecups
CD Painting and Decorating
The Dales Veterinary Centre
Fusion Taxis
Joey Sports Massage Therapy
LA Beauty Cabin
Maggie Tiernan Personal Trainer
Puffin Pottery
Tailored Dog Grooming
Best Newcomer
Annie's Dessert Bar and Cafe
Cabello
Cutting Crew
Georg Beauty
Joys Coffe House
Origin Fine Foods
Plants Dot Com
Riverside Animal Supplies
S & B Deli and Greengrocer
Yorkshire Pecorino

Best Service Sector - Health & Beauty
Gifted Angel
Halo Hair Design
Joey Sports Massage Therapy
LA Beauty Cabin
Maggie Tiernan Personal Trainer
R Sykes
Best Service Sector
Althams Travel
Arundel Travel
Languard Pest Control
Tailored Dog Grooming
Yorkshire Marketing Company
Best Apprentice/Trainee
Theo Rhodes at Christopher Little & Co
Millie Maclean at The Beauty Box
Environmental Award
Chevin Fancing
The Ethical Jeweller
Otley Funeral Care
Sinclairs
Woolsafe Organisation
Best Eatery
A Casa di Alessia
Buon Apps
The Fleece
The Mill Bar & Bistro
O'Deli
The Otley Burger Company
The Roebuck
Sift Café & Bakery
The Whitakers
Best Kerb Appeal
Jenni's Dresser
Nam Jai Thai
The Orchard Florist