Otley Business Awards Celebrates the
Amazing Talent in Otley
The Otley Business Conference and Awards Ceremony took place on Friday 18th March at the Otley Courthouse and was a resounding success.

The event, organised by Otley Chamber of Trade, in partnership with Otley BID and Otley Town Council, was a sell-out attended by over 100 business owners.

The day commenced with a series of influential speakers; Stephen Rowntree from The Pensions Regulator told businesses all they needed to know about Auto Enrolment Pensions, Simon Brereton, Head of Innovation & Sector Development from Leeds City Council updated businesses on the Economic Development of Otley, Steph Lee, Chair of Otley BID & a director of Otley Town Partnership updated on the Marketing of Otley, together with Jon Towler from Stray FM. Cllr Ray Georgeson from Otley Town Council closed the Conference with details of the upcoming Otley Tourist Conference due to take place on Wednesday 30th March.

Steph Lee, Chair of Otley BID said "I was delighted to be asked to present our marketing strategy to the Business Conference attendees. My congratulations go to all the worthy winners as well as my thanks to Tom Hatley and his team for all their hard in organising such a fabulous event for the town's business community. A truly wonderful and very enjoyable occasion.

The evening's Awards Ceremony was kicked off with a motivational speech by Jamie Peacock MBE, talking about his career and how he strived and succeeded to be the Rugby League Legend that he now is.

Tom Hatley, President of the Otley Chamber of Trade explained; "When organising the 2016 Business Awards we were aiming to go bigger and better than 2015. I think it's safe to say Friday night surpassed all expectations. It was a pleasure to welcome Otley's best businesses to a dazzling Courthouse. This was very much an Otley event with locally sourced food, beer and awards. Special thanks to our guest speaker, Jamie Peacock MBE, our sponsors, event organisers and of course the fantastic businesses of Otley.
We are delighted to announce the 2016 Award Winners who were all presented with their own engraved awards and personalised certificates on the evening:
Photography by Winpenny Photography, Otley.
The Award Winners
Best Newcomer Award - A Little Corner of the World Café
Sponsor - Winpenny Photography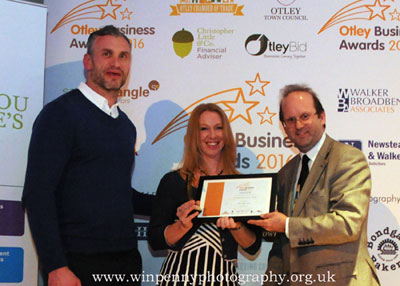 "We are so pleased that we won the Best Newcomer Award...it was a lovely surprise! We would just like to say a big thank you to the Business Awards and to all the local people who voted for us. It was a real honour for us in our first 8 months of trading. We are delighted and touched by the support we have received. The Awards are a great opportunity for local businesses to get together with each other. It creates good exposure in the local community for the winning nominees, but I also think it helps to encourage a good work ethic in all businesses, helping us all to look at ways to consistently improve and achieve the high standards that our customers deserve." - Sarah Dool
Best Food and Drink Award - M'Deena
Sponsor - Browns Gallery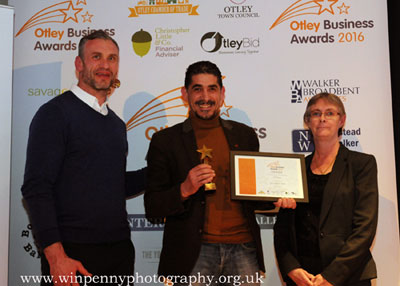 "We are very proud to have won the Best Food and Drink Award, it means a lot to me and my amazing team. Winning this award means that we have to double up the hard work to keep our customers happy and make their experience with us enjoyable, unique and memorable. Without their valuable and continued support we wouldn't have achieved this accolade. A massive thank you to the impressive community of Otley who welcomed us and made M'deena part of the town." - Nadir Derdar
Success Through Innovation Award - Just Add Water
Sponsor - Yorkshire Marketing Company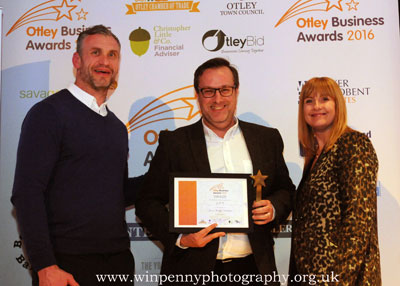 Best Retail Award - JB Wilkinson & Sons Ltd
Sponsor - Newstead & Walker Solicitors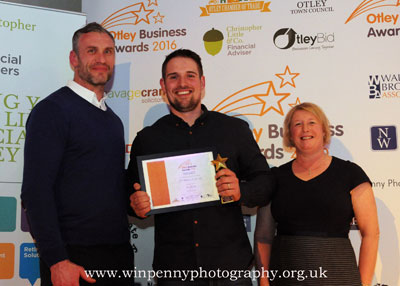 "It is such an honour, in the company's 80th year of trading, to have won the award for Best Retail at the Otley Business Awards 2016. We are delighted that our quality products, friendly customer service and commitment to buying from local farms have been acknowledged with this great accolade. We would like to thank our fantastic customers for nominating us and for their loyal support to the shop." - Daniel Place
Good Service Award - Colman Tyres
Sponsor - Savage Crangle Solicitors
Best Small Business Award - Dowgill House B&B
Sponsor - Hunters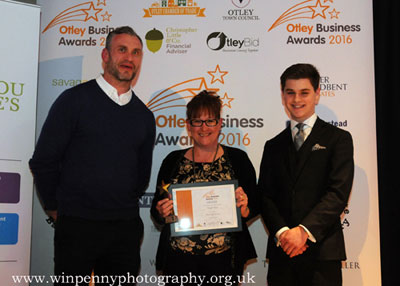 "It certainly came as something of a surprise being picked out as the best of a list of 18 great and diverse small businesses. We still have no idea who nominated us or who the independent judges were that made the decision. The local business community has had a tough time, to say the least, over what is now approaching a decade, so an event to celebrate our still largely independent town is really appreciated. The addition of a genuine sporting legend as keynote speaker underlined the ambition and enthusiasm of the awards, hats off to the organisations that are working together to keep the town rolling along. We are just proud to be part of it." - Tim Wilkinson
Best Café Award - Yum at the Baytree Café
Sponsor - Walker Broadbent Associates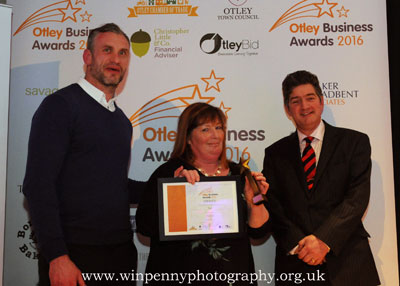 "Thank you to everyone involved in the OTLEY OSCARS!!! It's great to win this award again in the face of stiff competition. Our principles are simple; everything is homemade using the best, locally sourced ingredients, served with a smile. We often say "it's real food not fast food." - Joanne
Community Award - Peter Jackson from Otley Tavern for his work
providing lifesaving defibrillators to the town
Sponsor - Dale Eddison (presented by Rachelle Atkins)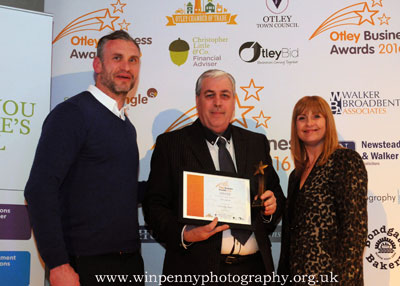 Best Apprentice/Trainee Award - James Rafferty of Cranberry Café &
James Hendry of Hunters Estate Agents
Sponsor - The Ethical Jeweller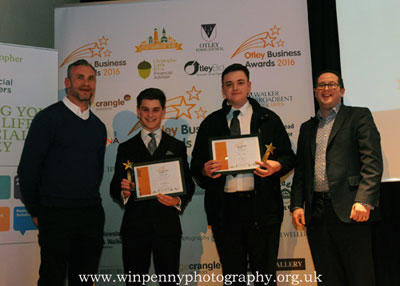 Best Large Business Award - Black Horse Pub
Sponsor - Bongate Bakery
Best Service Sector Award - Rest Assured Homecare Ltd
Sponsor - M'Deena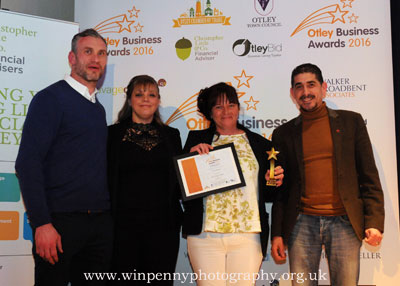 Lifetime Achievement Award - David Eadon of BFE Brays Chartered Accountants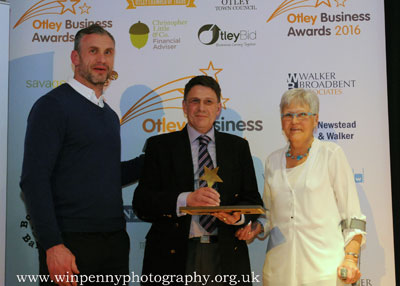 Charity Calendar - Otley Action for Older People, Martin House Children's Hospice & Otley Lions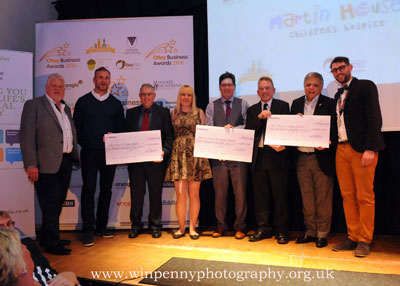 Otley Flood Heroes - B&TS, Black Horse, Greenholme Mills Carpets, Ground Time Landscapes, Higgins Plumbing & Heating, Philips Building Services, Sowdens Plumbers Merchants, Wise Electrical, Gareth Dibble & Mel Metcalfe.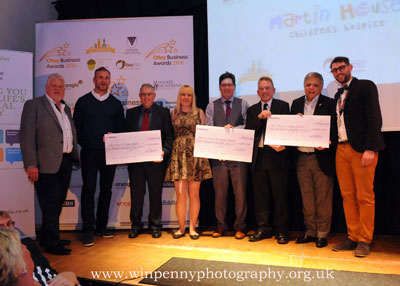 "We had great fun at the Business Awards. As a new business, it was also a fantastic opportunity to meet other local businesses. We were really proud to receive a Flood Heroes Award and very grateful that businesses were recognised for their efforts. We were really happy to be able to play a part in the assistance of those affected by the floods. Thanks again to the organisers and we are looking forward to becoming involved in the local business community going forward!" - Richard Smith, owner of Ground Time Landscapes
We were again delighted to have the support of the following organisations, without them this event would not be possible:-