Peek a Boo Boutique
Part of our 'Meet the Members' campaign
Nestled in New Inn Court is Peek A Boo, a baby boutique offering a huge array of baby and childrens clothing, equipment, toys and gifts.
Owner Michelle Firth is a mum of five, and has always had a passion for finding & sourcing unique, ethically produced and special baby items from all around the UK and Europe.
You may remember Michelle from the Wendy House on Ilkley road some years ago, but after closing the shop to care for her parents, Michelle set up a stall on Otley market. After 5 years of seeing her customer base, and the footfall around Otley, grow she decided to make New Inn Court her permanent home with Peek A Boo.
Michelle specialises in bespoke childrenswear at affordable prices (comparable with Next) and most of the clothes she sells are handmade by her friend and fellow Otley resident Lynne. Her
traditional toys are plastic free and many of the brands Michelle stocks are British.
Her shop really is a wonderland for all things baby and brought even more to life by Michelle's five little Yorkshire Terriers who are always happy to help! It is the perfect place to find a
christening gift or something to wear for a special occasion.
@peekaboo
#otley #otleychamber #chamberoftrade #chamberofcommerce #otleybusiness #shoplocal #shopotley #peekaboo #babyboutique #babyboutiqueyorkshire #yorkshire #yorkshirelife #supportlocal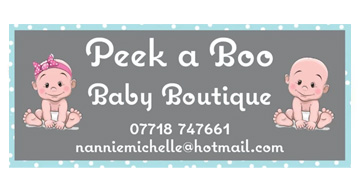 Peek A Boo Boutique
Contact:
Michelle Firth
Category:Retail
Description:
Baby Boutique
Address:
5 New Inn Court, Otley
Website:
peekaboobabyboutique.co.uk
Phone:
07718 747661